Build together with FLY & HELP and relexa hotels a school for Burma.
---
relexa hotels are building a school in Burma. Would you like to help us?
The ten relexa hotels support the Reiner Meutsch Foundation FLY & HELP – a unique mission, which has only one goal: Found education and people can help themselves.
With a world tour in a small aircraft Reiner Meutsch brought attention to the lack of school education, especially in developing countries. With the help of his Foundation, he initiated projects to enable people to access to one of the world's most important assets: education.
Together with partners and donators new schools will be built. The first rule is: all donations go 1:1 in the projects, nothing will be spent on travel, employees or advertising. These costs are financed by Reiner Meutschaus own resources.
Together with our guests we are building a school for Burma.
relexa hotels would like together with their guests build a school in Burma. For that the foundation needs 40.000 Euro, so that building materials can be bought, local people can be trained to build the school themselves and get paid for it. Also school materials will be purchased and school fees for the children are paid for. This enables employment and income for the local people, who are involved in the school building project, it gives security and the children can join the school lessons. With training the locals and give them instructions, how to build a school, they will gain new knowledge and a qualification, which will help them in the future process.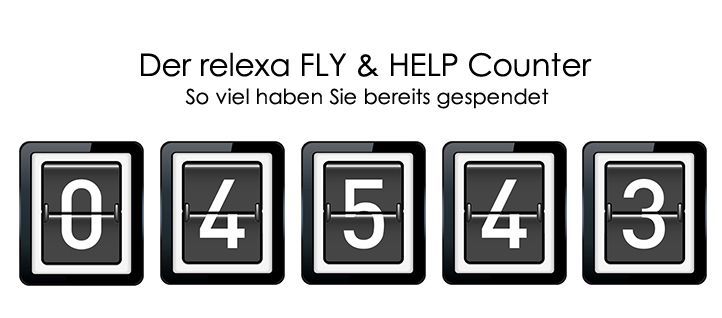 Above we can track re

gularly

how much money

you

have

already

donated

.

We will keep you

up to date.
What can you do: we have donation boxes at our reception in your relexa hotel as well as an account for your donation.
Every day hundreds of guests visit us. If everyone gives a little bit, we make a difference. Therefore, we have set up at the reception of each relexa hotels a donation box. No matter how much you give: every contribution counts. Your donations will be collected and given after a year to FLY & HELP - towards the project "relexa builds a school in Burma."
If you are already at home and would like to donate for this project, no problem. Here you will find different ways, how you can do your part to sponsor the school in Burma.
Transfer your donation to:
relexa hotels gmbH
Account number: 1355 82784
Bank sort code: 480 201 51
Account at: Deutsche Bank
Intended purpose: FLY&HELP
or donate directly using PayPal:
The relexa promise: We will be rounding the amount up
The common goal: On the 1st September 2014 we would like to donate to FLY & HELP a cheque of over 40.000 Euro. In case we have not reached on the 1st September 2014 the 40.000 Euro within the ten relexa hotels, we – the relexa hotel GmbH – will put in the remaining money. Under one condition: we must have reached at least 20.000 Euro. So help and support us - every Euro counts.
This is what our

CEO Axel

Steinwarz

says about the project and

the

Reiner

Meutsch

Foundation
"At first I was skeptical. There are so many charities and often are no specific targets. Together with FLY & HELP we have set a goal to which we work together with our guests. As a hotel chain, we can reach every day many people, since this is natural to our business. Our staff would love to tell you more about this project and give you further details how to support us. Whoever wants to give something, is welcome, and not just be a guest with us, but be part of this great project". Axel Steinwarz, Owner of relexa hotel GmbH
Find out all about the globetrotter, his unique project, as well as the background and current projects on the website FLY & HELP
We would like to thank you for

your help and

hope

- together with you

-

to build a new

school for the children

in Burma.
Photo: Reiner Meutsch/ FLY & HELP